Incept Inflatable Raft Technology
Design experience, expert craftsmanship & the world's best materials. And, of course, we have to do a lot of field testing!
TECHNOLOGY
INCEPT applies welding technology to all its boats. All construction seams on all air chambers are welded which makes the seams extremely strong, 100% airtight, and enduring for the life of the product.
INCEPT did at one time glue the seams but found that welding was faster, gave more control, was less hazardous for factory staff and the environment, and was more reliable – welding does not fail under tropical conditions (high service temperatures and humidity).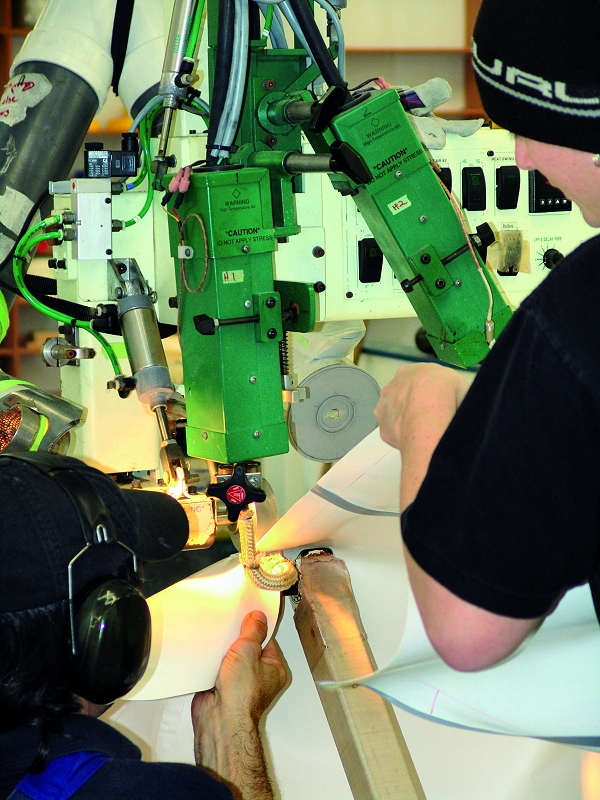 Hot Air Welding
INCEPT uses the latest state-of-the-art American rotary welding equipment for rapid and reliable welding of all inflatable tubes. A jet of extremely hot air (which will set paper alight) is directed between two panels of elastomer boat material which are momentarily melted and then welded together when passed through pressure rollers. The feed rate of the rollers can be changed in order to feed on one panel more than the other and allows great control of the process and many innovative constructions. In addition, a second hot air head can simultaneously weld the internal sealing tape.

HF (High Frequency) Welding
This is a process that applies a radiofrequency field across multiple elastomer components under pressure and which causes them to melt across the interface and weld together. It is quick and extremely reliable. Think of D-ring fittings, canoes – kayaks with internal baffle constructions, and self-bailing floors.

Seams
All tube seams are overlapped and taped on the inside. This seam construction provides the best industry-standard air tightness and the toughest construction. Whitewater raft seams are also taped on the outside for additional rub protection.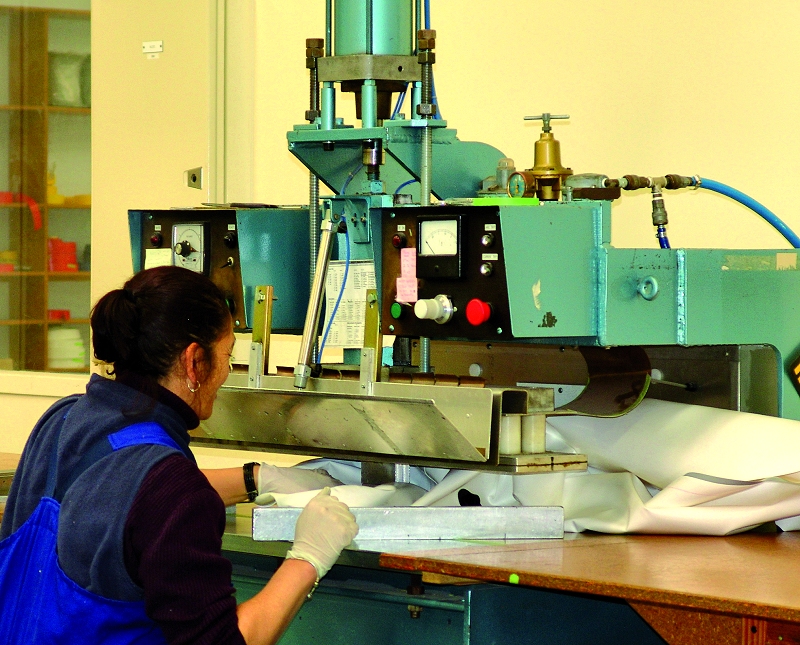 Fittings
For production efficiency, durability and strength, nearly all fabricated and moulded fittings are welded to the hulls of the boats. The D-ring patch used on whitewater river rafts is considered one of the industry's best, given that they are sewn with extremely heavy stitching and multiple webbings, then moulded through by welding for exceptional strength. External whitewater grabline D's are fitted with shields to protect webbings and rope.
Boat Materials
INCEPT uses about 15 different material parameters and compositions carefully chosen for specific use in various parts of each model. By combining them together we achieve optimum performance,
durability and weight on all our boats. Use of Hypalon ceased in the mid 90's in favour of high-endurance Poly-urethanes. Where it is appropriate, many smaller and more lightly loaded boats are still
made from the best boat-building pvc's which have been developed to provide easy manufacturing and long-term product reliability. There has been great improvement over 20 years in all these materials.
Performance boat materials are laminations of outer coatings (providing air-tightness and resistance to abrasion) and an inner reinforcement for strength.


INCEPT WHITEWATER RAFTS
All Incept Marine whitewater inflatable rafts are designed to achieve optimum waterline shape and exceptional handling with good carry-through in holes and stoppers.
Incept have developed uniquely tapered self bailing inflatable boat floors for all models which are permanently integrated into every boat. This results in long life, excellent performance and stability, together with good tracking and handling qualities.
Incept Square Back Inflatable Rafts excel in extreme water. The guide sits closer to the water which gives easier control. The longer bow, the longer waterline and the crew weight being slightly back allows the raft to punch through holes, have speed with minimal effort and maintain ease of control.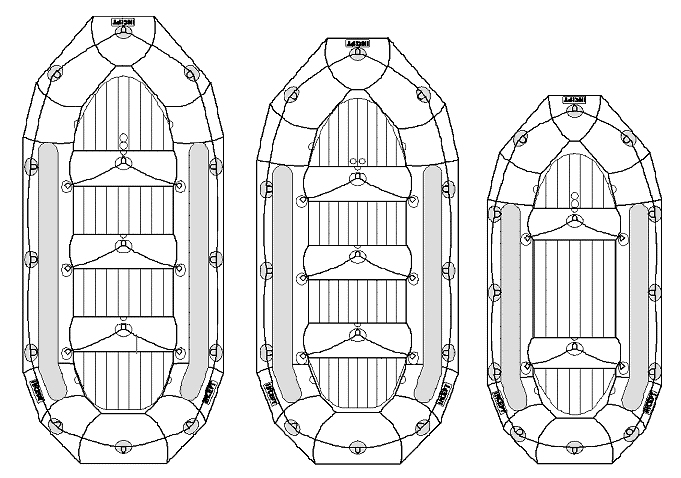 Incept Double-Ender Inflatable Rafts are industry standard, outwardly the conventional river raft shape but as with all Incept inflatable rafts they have exceptional dynamic performance in all classes of water.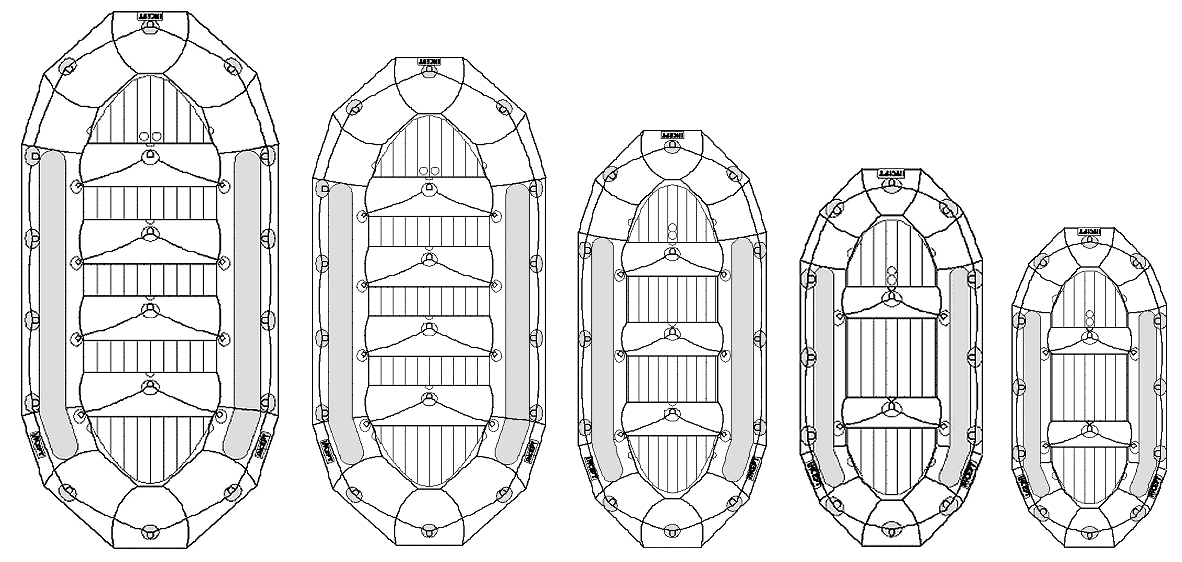 Poly Urethane (PU): Model suffix "X" Expedition Series
Polyurethane is unbelievably tough and is the strongest and best boat material available. It is weldable for construction - which means there is no glue to deteriorate - and yet is easily repairable with glue. PU has better properties than any other inflatable boat material in all categories except low-temperature foldability (Hypalon is easier to fold below 10 C). We have had 15 year old PU commercial rafts come into our plant with the basic 15yr boat material like new.
Polyurethane can be alloyed for enhanced properties, and Incept offers options for the larger rafts of a PU alloy in the sponsons and 100% PU in the floors, gaining good dollar values, obtaining extreme coating adhesions, and retaining the advantages of polyurethane's toughness. The big advantage of using this alloy is that the very expensive but more effective Aliphatic Polyurethane can be used (instead of Polyether Polyurethane) and high UV resistance and colour stability is obtained - important in lower latitudes.

These high-tech Polyurethane materials have the highest adhesion values in the industry. This means that the materials will hold together given the worst punishment short of dragging down the road behind the trailer.

Construction & Materials
Inflatable Canoes and Inflatable Kayaks
Boat-quality lacquered PVC coating, 1100 dtex polyester base cloth, 950 gsm.
All seams are heat welded.
D-ring fittings and rope beckets are welded.
Chafers are glued.
Small Lightweight Inflatable Rafts up to and including Model W33S:
Boat-quality lacquered PVC, 1100 dtex polyester base cloth, 950 gsm.
All seams are heat welded.
D-ring fittings are welded.
Chafers are glued.

Inflatable Rafts W33SX (Expedition) and all larger inflatable raft models:
General Construction - Polyurethane Alloy, 2200 (2/1100) dtex, polyester base cloth, 1050 gsm.
Under Tube Quarter Panels - Polyurethane alloy, 3340 (2/1670) dtex, polyester base cloth, 1500 gsm.
Floor Under-Side - Polyurethane, 1870 dtex, nylon base cloth, 1200 gsm.
Floor Top-Side - Polyurethane, 1100 dtex, polyester base cloth, 1040 gsm.
All seams are either "Hot Air" or "High Frequency" welded.
D-rings are welded.
Frame Chafers are glued.
History of The Incept Self Bailing Floor

Undoubtedly Incept has the best performing self bailing inflatable floors.
The adoption of radical design concepts in the 1980's allowed Incept self bailers to have curved tapered rocker built in to fit the shape of the sponsons and also completely eliminate the hard "rails" which exist along the edges of the floors on probably every other inflatable raft on the market. This means that Incept rafts are far less susceptible to the inevitable cross-currents which exist in turbulent white water, can punch through holes and stoppers and can be navigated into more assured channels rather than be at the whims of the flow. Know that this benefits you when you suddenly find yourself in dire straits! Incept rafts will stay upright when others flip.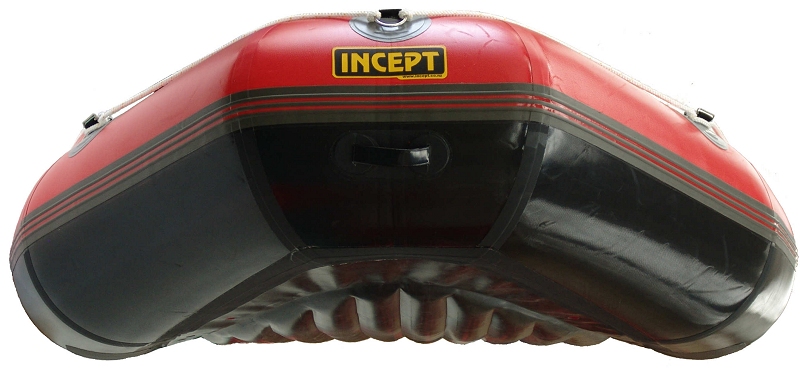 In 2003 Incept adopted Orca Tech© Polyurethane as the floor material of choice in the Incept Whitewater raft range. The top colour is international rescue-orange to make it distinctive and give classic distinction to the standard Incept raft colours of red or yellow. In 2011 Incept adopted ultra high adhesion grades from Erez Thermoplastics.

The boats are in long term daily service in extreme conditions such as the NZ Kaituna and the Australian Tully where high impact over drops and highly abrasive volcanic riverbeds have proven challenging.
---
Learn more about Incept inflatable raft technical issues on our FAQ (Frequently Asked Questions) page.
---

INCEPT WARRANTY

PRIVATE USE
Five years on materials and workmanship

COMMERCIAL USE
Two years on materials and workmanship

Warranty provisions are conditional on the return of the product to the factory or approved warranty shop freight paid.

All costs of making good including freight cost from warranty base back to owner is covered by warranty.